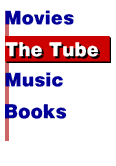 MAY 1999 | VOL. 3, NO. 5
FEATURE | DVD Reviews
LAST | The Sopranos
ARCHIVES | Television
B
U
Y

I
T



New DVD Releases

ROB GALLO

Bulworth: [Movie: A-; DVD: B]
A first rate political satire in which Warren Beatty gives one of his better performances. Beatty who also co-wrote, produced and directed the movie is Senator Jay Bulworth from California who decides to tell it like it is during the final weekend before the election. This is a very funny movie, but also a very good commentary on the state of American politics. The supporting cast is loaded with great performances by Oliver Platt, Halle Berry and Don Cheadle to name a few. The DVD offers few extras with just a trailer and cast biographies, but it is still a nice disc. The picture is clear, and especially good in the night and interior scenes which comprise a large part of the movie. The Dolby Digital 5.1 soundtrack is also good, but since this is a dialogue driven movie there is little to no use of directional effects. All in all a great movie, but the lack of extras features make this DVD a better rental than a keeper.

Pleasantville:
[Movie: A-; DVD: A]
Pleasantville is both a great movie and a great DVD. The latest in New Line's Platinum Series, this DVD pulls out all of the stops. You get a trailer, cast biographies, a commentary track by the director Gary Ross, an isolated score with commentary by Randy Newman, a Fiona Apple music video and a featurette entitled "The Art of Pleasantville." The movie transports Tobey Maguire (David) and Reese Witherspoon (Jennifer) from the 90's back to Pleasantville, a 50's television show. Once there, the two encounter a sanitized, black and white world which seems perfect on the outside, but is really far from it. Slowly, David and Jennifer introduce the people of Pleasantville to things they have never experienced before in their "perfect" world. This transformation is marked by the introduction of color into Pleasantville which makes for some great cinematography. Maguire is a standout, but J.T. Walsh, as Pleasantville's mayor, Joan Allen, as Mary Sue Parker, and William Macy, as George Parker are all excellent. DVD provides the perfect format for the visual transformation from black and white to color found in this movie. The Dolby Digital 5.1 soundtrack also adds to the visual effect. Pick this one up, it's a keeper.

A Bug's Life: [Movie: A-; DVD: B-]
Eagerly anticipated as Disney's first animated release on DVD - the movie does not disappoint, but will leave hard core DVD fans less than satisfied. The DVD is a direct digital transfer of the film which greatly enhances the clarity of the picture. It contains both an original widescreen (2.35:1) version and a special full-frame version which was digitally recomposed to retain as much of the image as possible. While both versions of the film are excellent, the full-frame version is visually superior. For those of you unfamiliar with the plot, Flik, voiced by Dave Foley, gathers a group of bugs to defend his ant colony from the Grasshoppers. What Flik does not realized is that these bugs are just a bunch of flea circus performers. The results are hilarious and anyone with kids will especially appreciate this movie. The Dolby Digital 5.1 Soundtrack contains a number of directional effects which will have you leaping off your couch. Regrettably, Disney continues its practice of providing minimal extra features. You get both sets of outtakes, which are hilarious, as well as "Geri's Game" the animated short film that also appeared with A Bug's Life in theaters, but not much else. Despite the lack of features this is still a great disc, and for any fan of Disney's animation a definite keeper.
---
ROB GALLO of Wethersfield, CT, is a staff writer and the movie guru of Renaissance Online Magazine.