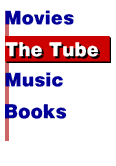 APRIL 2000 | VOL. 4, NO. 4
FEATURE
Bravo! Programming
LAST MONTH
Super Bowl XXXIV ads a big waste of money
RELATED FILM
Also starring Bruce Willis.
The Sixth Sense (1999)
Winner: People's Choice Award for Favorite Motion Picture.
Nominee: Six Oscars (2000), including Best Picture, Best Supporting Actor, Best Supporting Actress.
Buy It today
---

MOONLIGHTING
Bravo!
Friday, 7:00 p.m.

Starring Bruce Willis, Cybill Shepherd, Paul Sorvino.

---

TWIN PEAKS
Bravo!
Friday, 8:00 p.m.

Starring Kyle MacLachlan, Michael Ontkean, Dana Ashbrook, Lara Flynn Boyle. Produced by David Lynch

---
Sure, the 1990s offered a host of hour-long honorables -- the NYPD Blues, the Law and Orders, the Homicides -- yet after awhile, the list starts to lend itself to cliché; the shows appearing more and more as one-note types. Can't we have an hour-long drama without the sweaty interrogation room, the protracted life trauma, the itchy trigger finger, the requisite alcohol problem? The recent female-focused side of the coin is equally at fault; Providence and Once and Again both swirl around the same life crises and inevitable adultery stories, and I still can't for the life of me distinguish Family Law from Judging Amy. Not surprisingly, they even air on the same network.
Then there's Moonlighting, a show so indefinable, gleeful and vibrant in comparison. The Blue Moon case file was full of well-wrought whodunits that played proudly as classic, time-honored pulp, but on top of that, the show boasted a certain recklessness as well. In addition to defining the "dramedy," it grew unreservedly into a multi-genre melange of different styles and tones. Its joy was a hasty mix of mystery-suspense with slapstick; of action-adventure with romance; of Broadway with vaudeville. The result was sometimes inconsistent but always unpredictable, unpretentious, and kind of classy. Most of all, it was entertaining.
One need only to pick up a current TV Guide to see the decade-later influence; David E. Kelley's acclaim is partially attributable to Moonlighting, the very show that breathed stylized quirkiness. There was, for example, the moment when David Addison (Bruce Willis) paused a conversation with a flustered, misdirected character to ask the audience, "She doesn't watch the show much, does she?" There was the final episode, in which ABC employees disassembled the show's set while the actors existentially contemplated their fate as TV characters. And of course there was the episode which, airing during a writer's strike, was "inadvertently" ended ten minutes too early because David and Maddie (Cybill Shepherd) claimed they had run out of words to say. It was then decided that the remaining time be filled by having Herbert Viola (Curtis Armstrong) lip synch Sam the Sham's "Wooly Bully" while dancing in a turban.
Oddball variety show as well? Add it to the list.
Today, Moonlighting plays as something of a revelation, as the perfect re-run. What's most clear is that it's happily proven itself a rarity -- a show that is legitimately hip, not hyped, its coolness certifiably rooted in nothing less than quality.
Luckily, Bravo! has decided to bestow us a Moonlighting episode each week night in its 7:00 p.m. slot. Yet Friday's airing remains the sweetest; when it ends, thankfully, the night is still young. In the 8:00 p.m. hour, Bravo! resurrects another relic, this one in the form of a broad, inscrutable stroke of cult genius courtesy of David Lynch.
Twin Peaks -- or "Exhuming Norman Rockwell," as it might be subtitled -- was a short-lived show (1990-1991) that nonetheless dented its own huge crater into the otherwise common world of TV fare. Armed with a tableau so overextended in seemed to incorporate heaven, hell, and a Bible-sized book of self-styled lore, Twin Peaks sunk its teeth into the macabre underbelly of rural, small town America. It aimed to expose the unexpected clutter that can accompany the simple life, which, it might claim, is never actually simple.
Ask Lynch and he might exclaim that the homecoming queen is never what she seems, especially when she washes up on the shore wrapped in plastic. And so the show began. It was a convoluted ride, one that didn't stop until it confused us -- and itself, most likely -- in a violent web of repression and regret. Its teens were a mixed-up lot, criss crossing into a variety of cheats, crimes and drugs, and their parents and elders were compelled in many of the same ways toward infidelity and scheming. Twin Peaks wore a guise of experimental theatre, but it was just as much As The World Turns crossed maybe with Thomas Pynchon, a soapy riddle housed deep within dense western woods.
[ CONTINUED: Twin Peaks a 30 episode classic ]
---
RICK CONNELLY is the staff television writer for Renaissance Online Magazine. He can be reached at

[email protected]