SEPTEMBER 1999 | VOL. 3, NO. 9
ENTERTAINMENT
LAST MONTH
The King of Entertainment - Stephen King defines mass appeal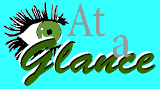 ROBERTS' RESUME
Notting Hill (1999)
Runaway Bride (1999)
Stepmom (1998)
Conspiracy Theory (1997)
My Best Friend's Wedding (1997)
Mary Reilly (1996)
Michael Collins (1996)
Something to Talk About (1995)
I Love Trouble (1994)
Pelican Brief, The (1993)
Player, The (1992)
Hook (1991)
Dying Young (1991)
Sleeping with the Enemy (1991)
Flatliners (1990)
Pretty Woman (1990)
Steel Magnolias (1989)
Mystic Pizza (1988)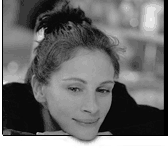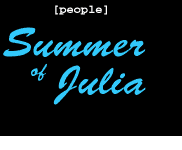 ---

NOTTING HILL
Rating: B

RUNAWAY BRIDE
Rating: A-/B+

---
LAURA DAVE
On a recent episode of "Late Night With David Letterman", Julia Roberts, the star of "Notting Hill" and "Runaway Bride", jokes with Dave that there was about to be too much of her in too short of a time. That people would get sick of seeing her face. As the summer of '99 comes to a close, the movie viewing public has shown they fail to agree with their favorite leading lady, catapulting both of her romantic comedies to box office success.
Audiences all over couldn't get enough, making Roberts' movies stand out in what happens to be a stand-out season of film. Let's think about why that is...why Roberts can singlehandedly ensure the success of even an ostensibly insipid love story. We'll come back to that. Let's take a look at her latest two films first:
"Notting Hill", Roberts first film of the summer, tells the story of a world renowned film star (Roberts) who, while filming a movie in London, stumbles into an old bookstore and falls in love with the quiet book store owner (Hugh Grant). Providing the audience with the typical and not so typical confusion that emerges when two distinct worlds collide - especially when one of those worlds is Hollywood - "Notting Hill" takes us on the couple's bumpy journey to happily-ever-after. With a fantastic supporting cast and witty movie business deprecating subtext, this movie is good-natured and at times funny. It is by no means, however, particularly unique; at all profound; or worthy of the type of talk its predecessor "Four Weddings And A Funeral" generated. "Notting Hill" is a straight-forward love story that does a mediocre job of creating an interesting love relationship and a good job of executing the love's development.
"Runaway Bride", Julia's second go around, marks the reunion of Roberts with the "Pretty Woman" team that made her famous. An enjoyable comedy that you can't help but enjoy even if you're set against liking it, the movie tells the story of a small-town woman (Roberts) who keeps getting cold feet as she walks down the aisle. When a big-city reporter (Gere) gets fired over misinformation he published regarding her story, he goes to meet this little lady, find out what she's really about, and get his job back in the process. The couple meets and greets, and the rest of Bride is predictable, agreeable history. In fact, with the exception of the notable performance of Joan Cusack, as Roberts' best friend, and a very funny joke involving Fed X, I can't remember much that made the background of this movie at all memorable. To the movie's credit, however, there are two very special scenes between Gere and Roberts that show the twosome's chemistry has not waned over the years. The satisfaction of watching them in action together also remains alive and well.
Roberts' two summer movies earn simple marks: one better than average, one much better than average. However both hold one potent claim to greatness: their lead actress. A woman who, literally, carries these films. So let's consider the initial question: why is this? What is so great about Roberts that people all over the country will shell out $20 ($40 per twosome) over a one month period to watch her in action? The answer has to be more complicated then her smile or her stellar acting ability - and it is excellent. Her appeal rests not just in her, but in how she opens up the mundane worlds of which she becomes a part and for two and a half hours at a time lets us see the possibility of our own worlds. Be it Los Angeles, London, or Little Town, Maryland, when Roberts arrives, they become worlds that hold dreams. Maybe because she just doesn't judge these worlds, or the people in them, but makes them her own. Makes them places where happiness, stability, and opportunity actually feel like possibilities - where possibility itself feels feasible.
You could put Roberts in eight films in row and each one of them would still be a hit because people crave that type of hopefullness. And she delivers it time and again.
---
LAURA DAVE, a free-lance writer living in New York city, writes both poetry and articles on popular culture for several publications. She is a staff entertainment writer.

PICTURES of Julia Roberts copyright ©1999 Paramont Pictures